Ismael and Esmirna Lopez currently reside in Imperial, NE where they minister to a population of Hispanic believers and continue to build disciples within their church family. They also continually support members of their community as the Lord brings different needs to their attention.
Pastor Ismael also comes to Holyoke on Sunday afternoons to lead a Spanish-speaking service at First Baptist Church with a large attendance of Spanish speaking individuals from this community. This congregation has grown over the years since it was founded in 2010 and Pastor Ismael and his family continue to seek ways to ministry to the individuals of Holyoke and share the love of Jesus with them. The church service they lead on Sunday evenings begins at 5:30pm with fellowship and a meal afterwards.
Ismael and Esmirna Lopez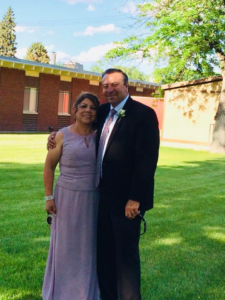 Members of Ismael and Esmirna's Family, The Vida Congregation and Friends
leading the worship time for the Vida Service enjoying a meal together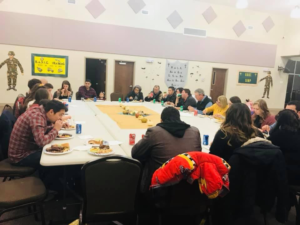 Vida Abundante hosting their annual summer camp at Camp Machasay in Amherst, CO. This is a camp for the youth in the area to come out and enjoy 3-5 days of hearing God's Word and learning the wonderful promises of our loving Father. At this camp, the children also play fun games, do crafts and just have a great time in God's beautiful creation.