Business meeting for members to vote only, no discussion, is set for January 24th immediately following the service.
Camp Machasay Registration, Now Open! Please see Camp section under our Ministry section to find out more information.
SUNDAY SCHOOL First Baptist offers classes for your whole family at 9:30 am. Come out early and be blessed. Kids Church and Grapple are still offered during our Worship service.
BASIC Training will start back up on January 27th at 6:30 pm. Spread the word!
Contact Information: If you are new or perhaps your contact information has changed and would like to receive information from the church via e-mail, please contact the church or fill out a form in the foyer.
Adult SUNDAY SCHOOL Class: Sunday School for adults continues with "The Story". If you haven't been attending, this video format and discussion makes jumping in at any time easy, and with a big room we are able to socially distance. The atmosphere is thought-provoking and discussion oriented as we seek to harmonize what God is doing and has done throughout history with our life experience and our understanding of that same history.
Nursery to Reopen Soon! The nursery will be opening again SOON (date to be announced) during Sunday school and Sunday Service to serve parents with young children. If you have a child between the ages of 0-4 years old please feel free to take advantage of this wonderful care.
Open Seats at FBC's Table for Caring Pregnancy Resource Center Banquet: If you would like to sit at the church's table during the dinner and banquet, please let Minnie Rodriguez know: 970-571-7574. There is no cost for the seat, that has been paid for by the church.
.
Do you wish to share a prayer request? Please utilize the church website or app to submit prayer requests.
Submitting your requests online will help keep the information accurate and ensure that it is sent out to the right people. It will help us to be more efficient in getting the needs out to the congregation too. If you have any requests to share, they may be submitted though any computer or mobile device. To submit a request, please visit: http://www.holyokefbc.com/prayer. All requests will immediately go to the pastor, all the deacons, and the church secretary. The requests will then be shared with the prayer chain. If you have any questions about how to submit requests online, please let pastor know or any of the deacons or the church secretary. We will be happy to help.
Outreach to Community during Country Christmas in Holyoke, Dec. 7th 20
20
Hot Chocolate Stand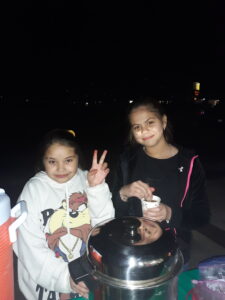 Fun Hayride through town provided by Jerry Cooper