Join us for Pre-Service Prayer Time Sunday Mornings at 9:15 in the church office!
"Believe" started Sunday, May 30th, in the adult classroom. In this video-based study from bestselling author and pastor Randy Frazee, participants will experience a transformative journey through the Bible by exploring the essential beliefs, practices, and virtues that every Christian needs to know. Grab a cup of coffee, and pull-up a chair around a table for a study that will utilize video, large group and small group discussion. Don't miss it!
"Dinner for Eight": "Dinner for Eight" will be a time to fellowship with individuals in our church body over a meal in a pot-luck style format, that will meet once a month for three months with the same people in each group. Each dinner meeting will last 1 1/2 to 1 3/4 hrs, and will include the meal, time for interaction around a question or two, and prayer. We are looking for individuals to sign-up to host these groups and then once those individuals have been identified, there will be a 1 hour training to help us get started. Our intent is to begin to build a deeper level of community, where people can encourage each other in their spiritual walk. Hebrews 10:24-25. "And let us consider how we may spur one another on toward love and good deeds, and let us not give up meeting together as some are in the habit of doing, but let us encourage one another– and all the more as you see the Day approaching.
On Monday, FBC will be hosting a VBS put on by a visiting group from Arkansas. It should be great. Please tell your friends and stop by the City (Rainbow) Park Monday through Thursday just to interact with the kids and represent FBC. At this time no "workers" are needed but extra hands always make things go easier. Bring your kids and grandkids. June 21-24, 5 to 7:30 pm. Nursing Home Services have started up again. FBC will be providing a service on Sunday, June 27th at 2pm. If you are interested in helping, please call the office.
Caring Pregnancy Baby Bottle Campaign is over, thank you for all who participated!
VBS in the city park from Monday, June 21st-23rd.
Check out the flyer to the right for more details. Hope to see you there!
Church Emails: If you would like to receive church emails and prayer requests via email please call the church secretary at 854-2452 to get on the list.
Worship Team: If you have any desire to come practice with the worship team, we meet on Thursdays at 7pm and Sundays at 8:30am to practice. We would love for you to join us!
If you have a prayer request and would like the church body to be lifting you up in prayer, please contact the secretary at the office either by phone: 854-2452 or by email: info@holyokefbc.com.
Donuts with Dads: Dads, you are invited to come have donuts with your child(ren) on Father's Day before Sunday
school, to celebrate the great influence you have in your Children's lives.
Contact Information: If you are new or perhaps your contact information has changed and would like to receive information from the church via e-mail, please contact the church or fill out a form in the foyer.
Do you wish to share a prayer request? Please utilize the church website or app to submit prayer requests.
If you have any requests to share, they may be submitted though any computer or mobile device. To submit a request, please visit: http://www.holyokefbc.com/prayer. All requests will immediately go to the pastor, all the deacons, and the church secretary. The requests will then be shared with the prayer chain. If you have any questions about how to submit requests online, please let pastor know or any of the deacons or the church secretary. We will be happy to help.
The Children's Ministry at FBC, lead by Children's Ministry Coordinator, Sue Cooper, will have several exciting outreach events this summer to engage the youth of the community and to share with them the love and Word of God. Those outreach opportunities include 2 VBS camps, movies at the church, and fun and games being offered during our annual Fourth of July party in the parking lot. More details coming soon!
Don't forget Children's Church is still going on through the summer; this is a great opportunity for children age Pre-K – 3rd grade to hear God's word taught in a way that is meaningful to them and easy to remember. We look forward to the opportunity to see your child this summer and speak God's word into their lives. Hope to see you soon!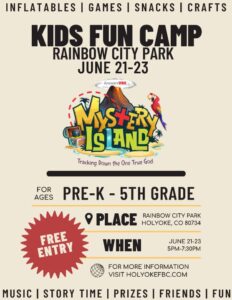 Fun in the City Park during Mystery Island VBS, June 21st-23rd…still two days left for your child to come enjoy the fun!