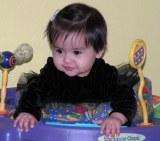 Nursery at FBC has REOPENED
! We have hired a new nursery staff worker. Please stop by the nursery and welcome Janel Rodriguez to our team. Janelle is a single mom who loves to serve the Lord in this capacity. She adds a depth to our Sunday School and Kids Church teams. We are blessed to have her.
Nursery Sign Up
If you would like to you serve as a volunteer in the nursery please fill out this form.