OUR MISSION
Sharing Christ & Building Believers
OUR VISION
First Baptist Church strives to be a community where, in Christ, we pursue a better way to live, where outsiders seek to belong, and where everyone is equipped and encouraged to fully trust Jesus and serve Him.
HOLYOKE FBC * HOLYOKE | 1000 E. Johnson St., CO 80734 | info@holyokefbc.com | (970) 854-2452 | 2015. Copyright. All Rights Reserved.
OUR MISSION
Sharing Christ & Building Believers
OUR VISION
First Baptist Church strives to be a community where, in Christ, we pursue a better way to live, where outsiders seek to belong, and where everyone is equipped and encouraged to fully trust Jesus and serve Him.
OUR PURPOSE
The Purpose of Holyoke First Baptist Church is to glorify God through: Evangelism, Worship, Fellowship, Edification, and Service.
OUR CORE VALUES
We unashamedly and uncompromisingly strive to be:
Biblically Based – God's Word is our guide, authority and conscience in everything. We stand firm where Scripture stands firm and remain flexible where it is flexible. It is through the teaching and preaching of God's Word where we have knowledge of the Gospel, where sinners are convicted, where hearts repent, and where people are moved to serve Jesus Christ (2 Timothy 3:16).
Passionate About Prayer – We believe the attitude and action of prayer is essential to everything we do as individuals and as a corporate body. Nothing of eternal significance or value is ever accomplished apart from prayer. It is through our prayers that we align our hearts to listen to God's Spirit, we declare the goodness of God, give God thanks, seek forgiveness, find supplication and abide in His presence (Psalm 45:18, Jeremiah 29:11-13, Matthew 6:9-13, Colossians 4:2).
Committed to those far from God- We believe that lost people matter to God; therefore, they matter to us. Jesus came to seek and save the lost and has left us here, in part, to do the same. Our individual lives and corporate efforts will reflect this conviction to pursue the dead churched, de-churched, and unreached in our community and beyond with the love of Jesus Christ and the hope of the Gospel (Matthew 28:18-20; Luke 19:10, Rev. 2-3).
Invested With Our Gifts – We believe that each believer has been employed by the Holy Spirit with at least one spiritual gift and many God given talents in order to serve the body of Christ. Believers are called to be good stewards of the manifold grace of God. Spiritual giftedness and maturity determines where and how a believer serves. We believe excellence honors God and reflects His character. We strive for excellence without compromise in all areas of our ministry and lives. (1 Peter 4:10; Colossians 3:17).
Committed To Community – Belonging to our community requires a commitment to being intentionally involved with others in accountable, encouraging relationships. We believe life-change happens best in the context of abiding relationships that together are pursuing spiritual growth in Jesus Christ. In clusters of caring people, participants share and encourage each other toward spiritual growth. (Hebrews 10:24-25).
Relevant in Ministry – We believe that to be biblical we must be traditional. We also believe that to be effective in our ministry, we must share those traditions in a manner that engages our culture and in a way that they understand. The Bible does not tell us to use only certain styles of music, or to present our message only through words. The Bible does make it clear, however, that we are to find ways to effectively bring the message "into all the world" in order to make disciples. We believe this will require careful scrutiny of everything we do – new practices and old – and a willingness to change when necessary within biblical parameters, in order that we, "by all possible means might save some." (1 Corinthians 9:22; 2 Thessalonians 2:15, 3:6; Ephesians 4:11-16).
Acts 2:42 And they devoted themselves to the apostles' teaching and the fellowship, to the breaking of bread and the prayers. 43 And awe came upon every soul, and many wonders and signs were being done through the apostles. 44 And all who believed were together and had all things in common. 45 And they were selling their possessions and belongings and distributing the proceeds to all, as any had need. 46 And day by day, attending the temple together and breaking bread in their homes, they received their food with glad and generous hearts, 47 praising God and having favor with all the people. And the Lord added to their number day by day those who were being saved.
Contact Information
Please feel free to come by the church during office hours Monday through Friday between 8 a.m. and 4 p.m. First Baptist Church 1000 E Johnson St., PO Box 465 Holyoke, CO 80734 Office Phone: (970) 854-2452 Email: info@holyokefbc.com To Contact Pastor Jeremiah Krieger: Office Phone: (970) 854-2452 Email: pastor@holyokefbc.com
To Contact
Pastor Ismael Lopez
: Home Phone: (309) 882-4987 Cell Phone: (970) 580-1195 Email: aida@chase3000.com
To Contact the
Deacons
: Imer Rodriguez: (970) 520-2064 Logan Krueger: (970) 854-5567 Mike Frazier: (719) 648-7469 Mark Werts: (970) 854-2452 To Contact the
Trustees
:
Israel Rodriguez (970) 571-3619
Ron Koch: (970) 854-4040
Aaron Powell: (970) 854-5178
Lisa Werts: (719) 480-0561
Ivan Wiebke: (970) 854-5361
Mike Frazier: (970) 854-3163
Jason Frost: (970) 580-3360
Erik Robledo (970) 580-4728
Alberto Ramos (970) 520-8379
Brant Sisseck (970) 520-0877
For information about our
Children's Ministries
: Contact Ron Lock: (970) 580-3054 For information about our
Youth Ministries
: Contact Mike or Micaila Frazier: (719) 648-7469 For information about our
Adult Ministries/Small Groups
:
Click here
to go to our Adult Ministries Page
Para informacion cerca de nuestro
Ministerio Espanol/Vida Abundante
: Haga
clic aquí
para ir a nuestros Ministerios Españoles
Sunday
9:30am Sunday Sc

hool
10:30am Sunday Service
5:30pm Vida Abundante (Spanish Service)
Sunday Morning Worship Service
Our Sunday Morning Worship Service at 10:30 a.m. is a great time of fellowship and worship. The music is based upon the great hymns and songs of the faith, and the preaching is from the solid foundation of God's word. Come join our praise team of choir members and pianists for a great time of worship with us on Sunday morning and a time of refreshing, Biblically solid teaching.
Vida Abundante
On Sunday night at 5:30 p.m. join the Spanish service for guitar-led worship and a beautiful time of fellowship and praise, which carries a latin feel and wonderful Bible-based preaching in Spanish.
Apr 23, 2017

Gifted: How God displays his glory to the world

Apr 16, 2017

5 Reasons We Celebrate Today

Apr 9, 2017

The King Who Came

Mar 19, 2017

When We are in Trouble

Mar 12, 2017

Worship: Music that Moves God's Heart

Feb 19, 2017

Guest Speaker: Mike Frazier

Feb 12, 2017

Worship: How to Serve God

Feb 5, 2017

Worship: How Your Time Matters

Jan 29, 2017

Worship: Why Your Money Matters

Jan 22, 2017

Every Life a Gift

Jan 15, 2017

Worship: Our Greatest Privilege and Highest Honor

Jan 8, 2017

Guest Speaker: Randy Green

Jan 1, 2017

State of the Church

Dec 24, 2016

Christmas Eve: The Gift

Dec 18, 2016

Joy at Christmas: Finding Peace when Pieces are Broken
Safety Committee Meeting: The safety committee will be meeting after church on March 3rd followed by a potluck. If you are interested in the safety committee we encourage you to attend. If you have any questions or concerns please contact Lisa Werts.
FBC Membership: We need your help! The deacon board is working on updating our membership roles and are seeking clarification. In the past, it has not been clear about how membership is obtained at FBC. Some may have been baptized with or without the intent of becoming a member. If you are uncertain about your membership status please contact pastor Jeremiah or one of the deacons: Logan Krueger (chair of Deacon Board), Mike Frazier (secretary of Board), Imer Rodriguez or Mark Werts. We would love to help clarify any questions or help you in the process to join FBC.
2019 Wera, Uganda Trip. June 21-July 1st. If you are interested in going, please contact Mark & Sheryl Farnsworth. Preparations for this trip starts soon! 854.5123 or 520.6213
Do you wish to share a prayer request? Please utilize the church website or app to submit prayer requests. Submitting your requests online will help keep the information accurate and ensure that it is sent out to the right people. It will help us to be more efficient in getting the needs out to the congregation too. If you have any requests to share, they may be submitted though any computer or mobile device. To submit a request, please visit: http://www.holyokefbc.com/prayer. All requests will immediately go to the pastor, all the deacons, and the church secretary. The requests will then be shared with the prayer chain. If you have any questions about how to submit requests online, please let pastor know or any of the deacons or the church secretary. We will be happy to help.
Youth Challenge is hosting Archery Nights at Camp Machasay. The dates for the event are February 10th & 24th, and March 10th & 24th from 3-6 p.m. There is a $5 per night donation to help with equipment costs. The fun includes: open and competitive shooting-indoors, families welcome, bring your bow or borrow ours. For more information please call Mike Frazier at (719) 648-7469.
Re:generation Recovery ministry is held on Tuesday's from 6:30 – 8:00p.m. at the First Baptist Church. Please contact Sheryl Farnsworth if you're interested in joining this group or for more information: 970-520-6213
.
AWANA meetings are held Wednesday nights from 6:00 – 7:30 p.m. During inclement weather, Awana follows the school schedule. Please continue to pray for this ministry, for our leaders, and new families.
Submit your prayer requests online. You can now go online and submit prayer requests. If you would like prayer, as an additional option to calling the church office or sending email, you may visit holyokefbc.com/prayer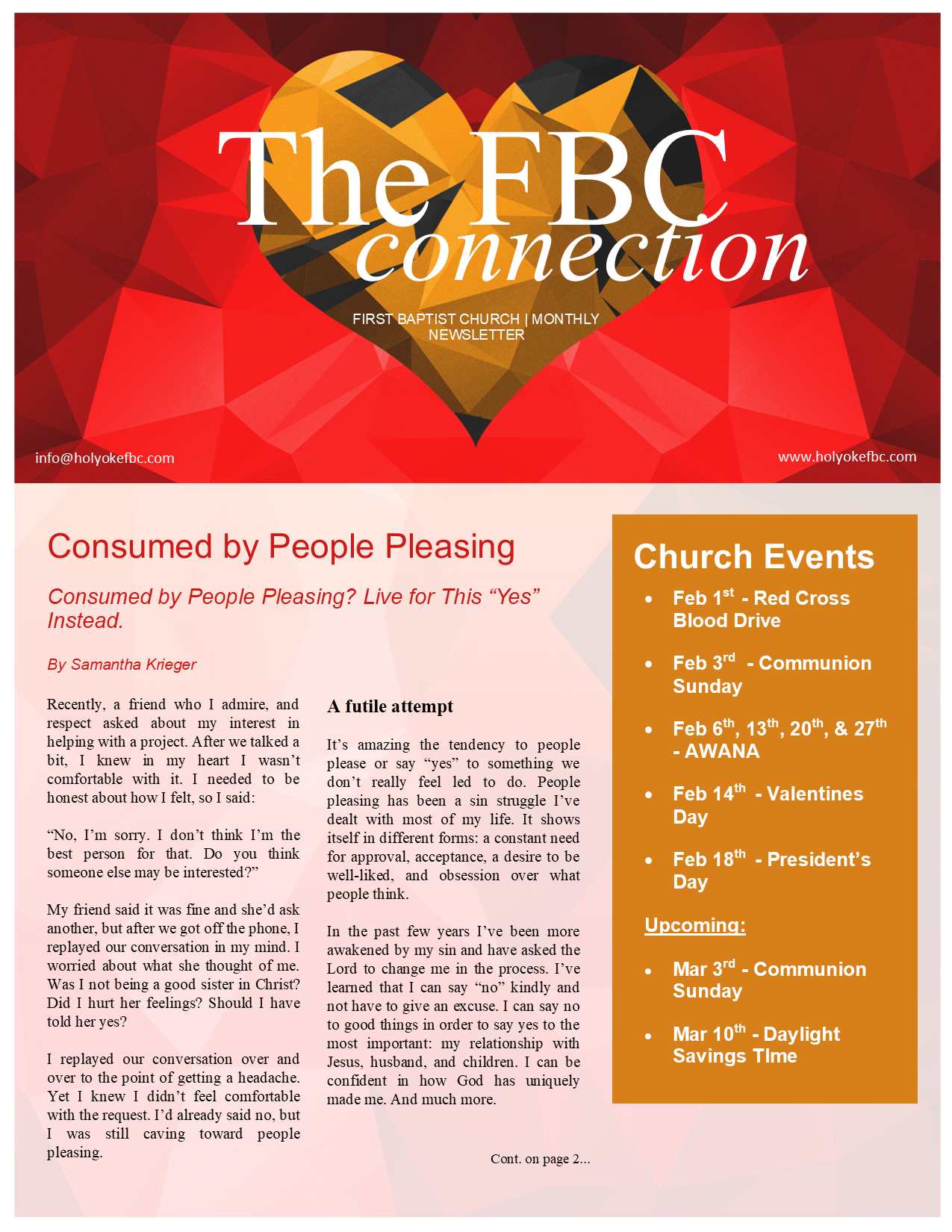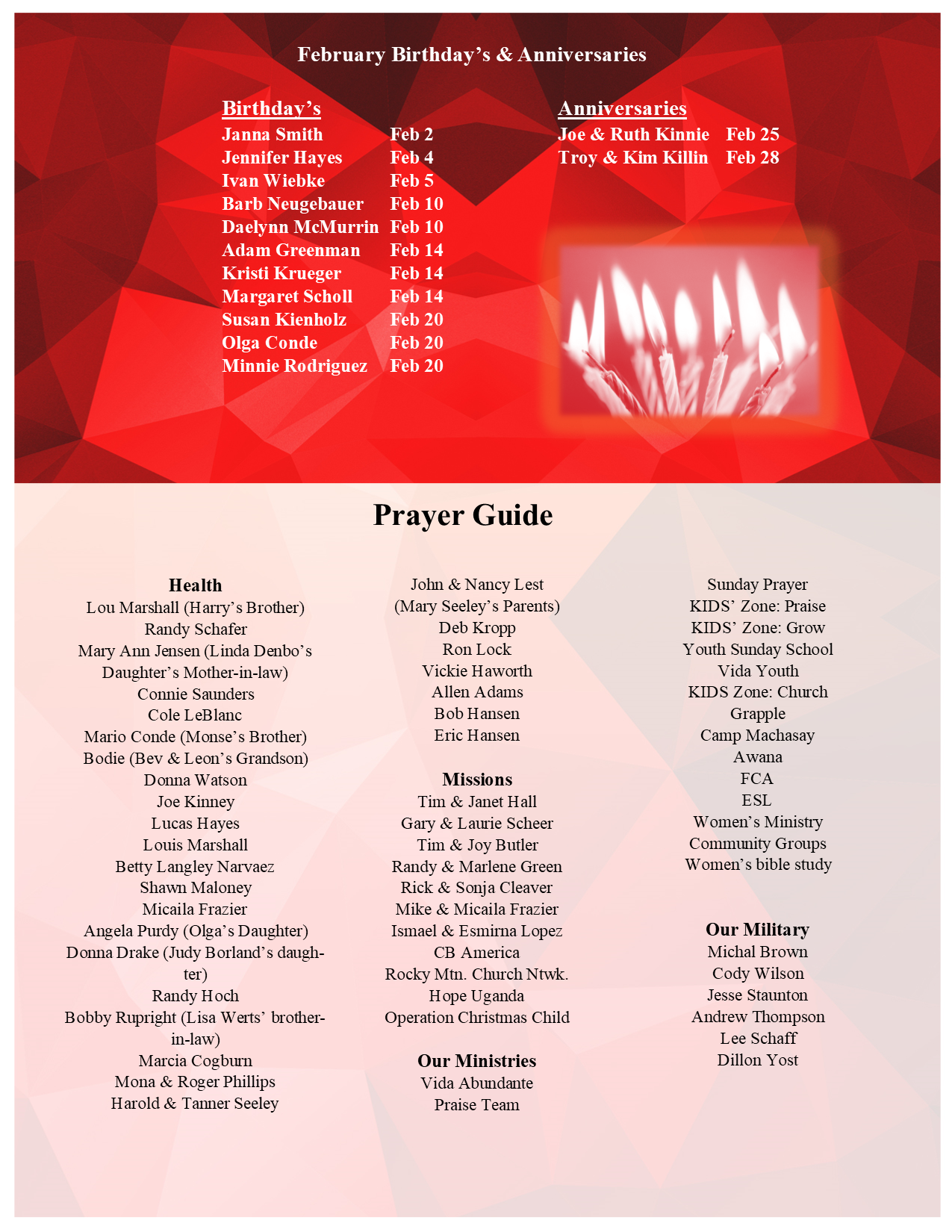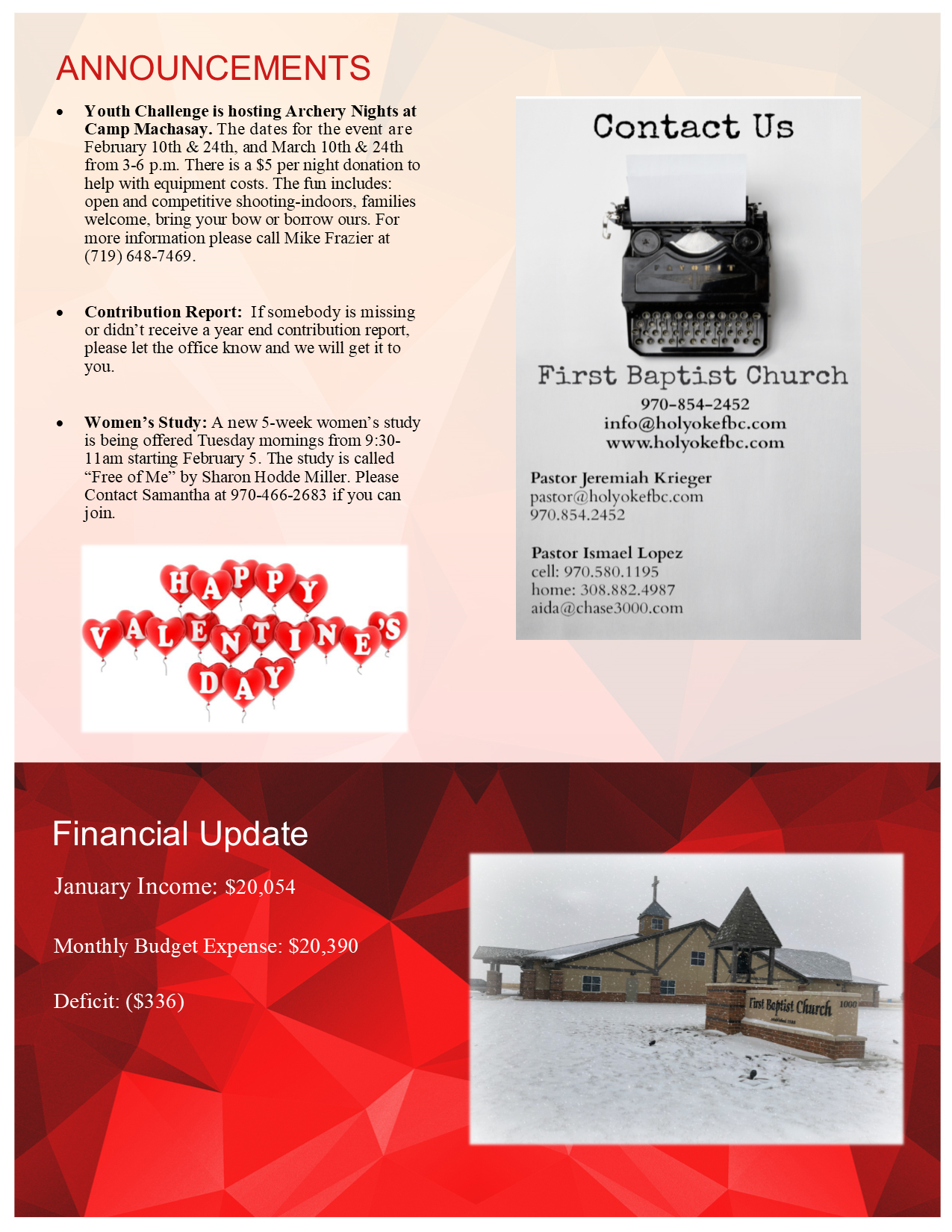 Here's where you'll find us
Church Information
Please feel free to come by the church during office hours
Mailing:
PO Box 465
Holyoke, CO 80734
Physical Address:
Office Phone: (970) 854-2452
Email: info@holyokefbc.com
To Contact Pastor Jeremiah Krieger:
To Contact Pastor Ismael Lopez:
Church is not a building. We extend God's love to our community and online through all our social media channels. View our new worship videos, teaching and more. Connect and interact in discussion groups.
Event Registration Page
(Click on image of class you wish to register for)